Gmail down, twitter checken
Edgar spreekt me aan op MSN: Doet Gmail het bij jou ook niet? Ik start hem op in mijn browser en inderdaad, krijg deze foutmelding:

Apart, want Gmail is een gegeven feit geworden… Het is er altijd net als de zon, google, virussen etc. Nu het weg is mis je het pas 🙂 Toch was ik nieuwsgierig of het nou aan mij ligt, aan onze regio ligt, aan het land ligt of dat het mondiaal is. Tegenwoordig kan je op Twitter zoeken of je de enige bent en waarempel, nee! We zijn niet alleen. gmail – Twitter search Zie hieronder de resultaten.
Ik zie nu dat je de life-tweets van Twitter ook kan volgen via Twitterfall. Geweldig! http://twitterfall.com/Gmail
Misschien toch eens kijken om die Google Gears te installeren zodat je offline je Gmail kan gebruiken. Zoals hier beschreven: Gmail and Google Calendar add Offline Support of natuurlijk gewoon via IMAP werken. Zie hier de instructies van Gmail.
Zo nu de resultaten van de Twitter search, in alle talen. Werkelijk een mondiaal probleem. Ben nieuwsgierig wat er nou fout is gegaan.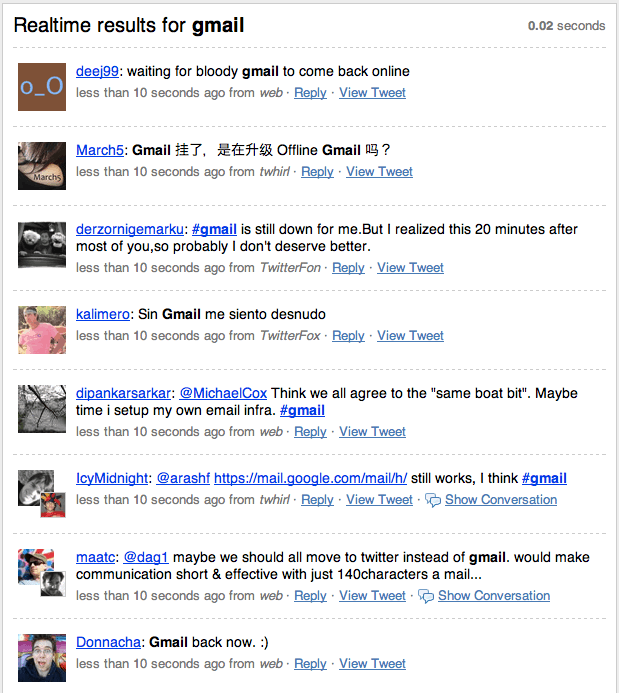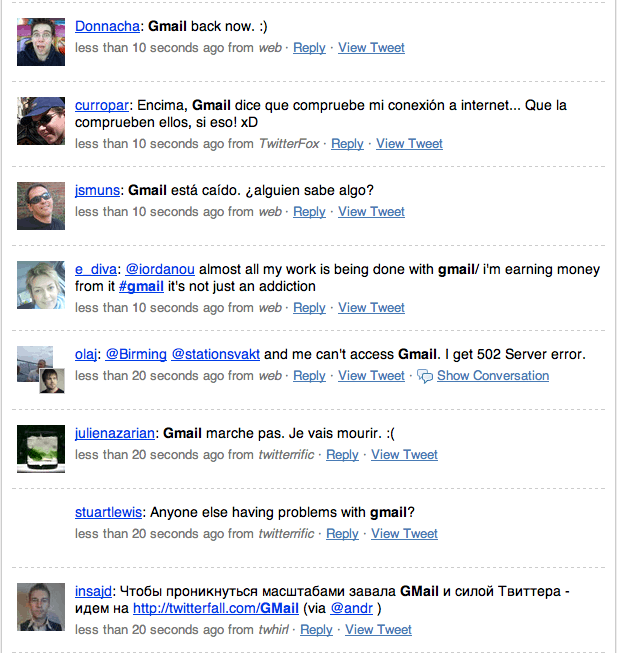 p.s. "Gmail marche pas. Je vais mourir. :(" is het zo erg? Nee toch?
Ik zie nu dat je de life-tweets van Twitter ook kan volgen via Twitterfall. Geweldig! http://twitterfall.com/Gmail
https://old.floris.vanenter.nl/wp-content/uploads/2009/02/picture-6.png
653
617
https://old.floris.vanenter.nl/wp-content/uploads/2015/10/Floris-online-1030x318.png
2009-02-24 11:52:44
2016-09-26 19:11:21
Gmail down, twitter checken