Van iPod/iPhone naar PC/Mac
Aaaaaargh, iTunes is een rotprogramma!! Hoor ik wel eens, waarom?
Je kan de muziek als je die op je iPod hebt gezet niet makkelijk even er weer vanaf halen.  Dit is een feature die Apple er zeer waarschijnlijk bewust niet in heeft gezet. om verschillende reden. Eentje die werd heel goed omschreven door iLounge;
One of the likely reasons for Apple to have taken such a restrictive approach to this is to combat piracy and thereby maintain good relations with the music labels that are currently selling their content via Apple's iTunes Store.
Klinkt plausibel… maar ik heb een keer gehad dat mijn harde schijf crashte met alle muziek er op. Dan heb je een mooie grote iPod waar al je muziek op staat dus je moet alles van je iPod afhalen. Tegenwoordig zijn er buiten Apple om eeen aantal applicaties die op zowel Mac als PC je hiermee helpen. Je moet ook even opletten of je een iPod Touch of iPhone hebt, want die werken niet altijd met alle applicaties die wel netjes je iPod Classic, Shuffle of Nano uitleest. Hieronder zie je een overzicht van applicaties;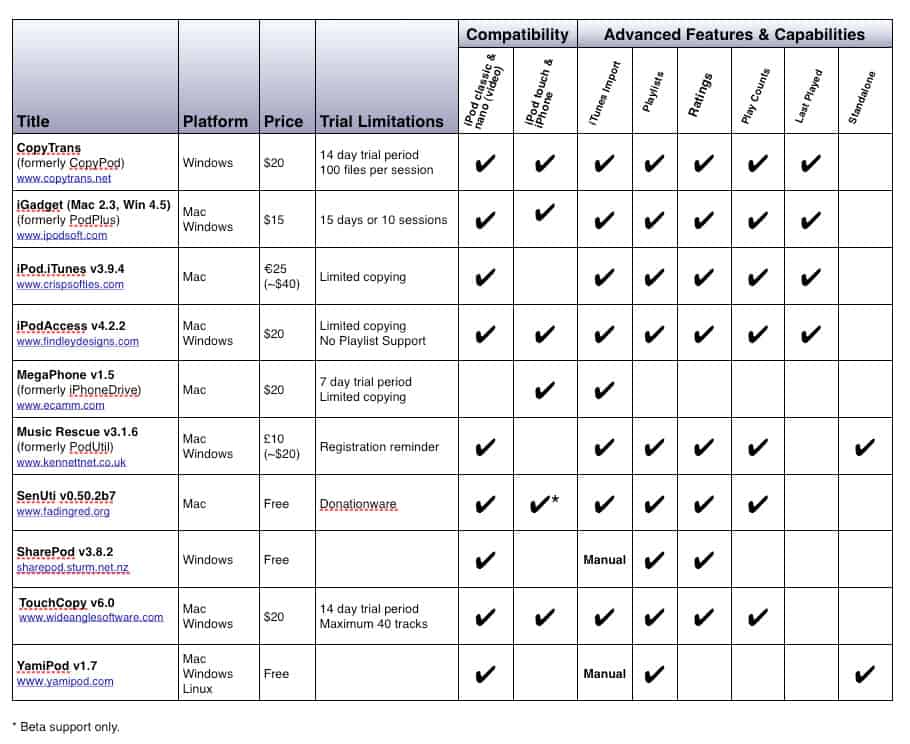 Dit stukje hierboven geschreven is maar een tip van de sluier. iLounge.com heeft zelf een heel mooi en uitgebreid artikel geschreven. Vooral als het overzetten van data van de iPod naar de PC/Mac je nog totaal onbekend is raad ik het aan om het te lezen..
Zelf gebruik ik op de PC altijd YamiPod en op de Mac gebruik Senuti. Beiden programma's waar ik compleet mee uit de voeten kan. Wat essentieel is om te onthouden; Als een iPod MAC geformateerd is lukt het je niet om hem met de PC uit te lezen. Andersom werkt wel.
https://old.floris.vanenter.nl/wp-content/uploads/2015/10/Floris-online-1030x318.png
0
0
https://old.floris.vanenter.nl/wp-content/uploads/2015/10/Floris-online-1030x318.png
2008-09-25 13:59:52
2019-01-15 06:48:48
Van iPod/iPhone naar PC/Mac