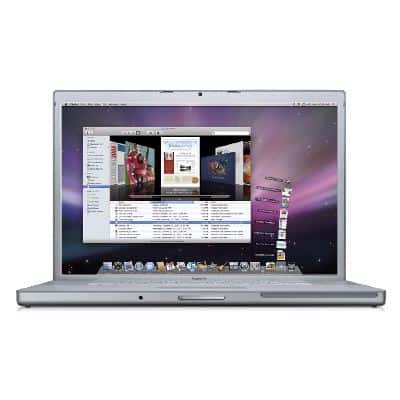 Door Marcel werd ik er op gewezen dat nu ook Apple waarschuwt voor virussen en daarom ook anti-virus software aanraadt.
Helaas had hij gelijk en ontgoocheld postte ik een stukje in het OneMoreThing.nl forum met het gevonden onderstaande artikel van de Apple site;
Apple encourages the widespread use of multiple antivirus utilities so that virus programmers have more than one application to circumvent, thus making the whole virus writing process more difficult. Here are some available antivirus utilities:

Intego VirusBarrier X5, available from the Apple Online Store
License: commercial

Symantec Norton Anti-Virus 11 for Macintosh, available from the Apple Online Store
License: commercial

McAfee VirusScan for Mac
License: commercial
Important: Information about products not manufactured by Apple is provided for information purposes only and does not constitute Apple's recommendation or endorsement. Please contact the vendor for additional information.
Heleboel reacties werden in het bovenstaande forum-post gegeven, onder andere de volgende;
Ik draai hier wel een virusscanner, maar dit is puur voor de email.

Ik stuur vaak dingen door naar klanten, en wil niet dat ik het mailtje met een geinfecteerde bijlage doorstuur naar mijn klanten. Ik heb er geen last van, maar de ontvanger dan wel.
of
Apple is sinds Leopard steeds meer aan preventie van malware en phishing, etc. gaan doen. Dat heeft natuurlijk te maken met het toenemende risico vanwege het groeiende marktaandeel en het niet kunnen achterblijven bij wat de concurrentie doet.

Mac OS X is op zichzelf, zonder extra virusscansoftware, al beter bestand tegen kwaadwillende software dan ooit, maar bij Windows en Linux heeft de tijd zeker niet stil gestaan. Het maken van virussen voor Windows is ook niet zo makkelijk meer tegenwoordig, omdat de beveiliging van Windows zelf sterk is verbeterd en omdat op Windows vrijwel iedereen tegenwoordig een virus scanner gebruikt. Het is niet ondenkbaar dat het voor virusmakers op een gegeven moment makkelijker wordt en lonender is om zich op Mac OS X te richten dan op Windows.

Ik draai zelf (nog) geen virusscanner, en maak me er ook nog niet onmiddellijk heel erg druk over, maar het is wel een ontwikkeling om in de gaten te houden. En het is verstandig van Apple om daar aandacht aan te besteden.

Dit bericht wordt nu als slechte publiciteit gezien, maar ik denk dat de publiciteit nog veel slechter zou zijn als er op een gegeven moment een virus uitbraak zou komen, en Apple nooit eerder met zulk advies was gekomen.

Deze laatste opmerking die via het draadje vanaf www.macminds.net komt is denk ik de meest zinvolle, alhoewel als we in de praktijk kijken vrijwel geen Mac-gebruiker in de laatste jaren last heeft gehad van virussen of spyware terwijl het bij de Windows-buren even erg uit de hand liep. Maar het was allemaal een storm in een glas water. Apple heeft het artikel met de volgende opmerkingen verwijderd;
The article received "a lot of attention" because it seemingly contradicted Apple's marketing messages about malware for Mac. Our own Michael Rose tried to take the kettle off the stove, noting that the article had been around for years before the Washington Post noticed it this week.

Macworld's Jim Dalrymple spoke with Apple spokesman Bill Evans, who said "We have removed the Knowledge Base article because it was old and inaccurate. The Mac is designed with built-in technologies that provide protection against malicious software and security threats right out of the box."

Even so, Evans admitted, "Since no system can be 100% immune from every threat, running anti-virus software may offer additional protection."
https://old.floris.vanenter.nl/wp-content/uploads/2011/07/158325_Apple_85.jpg
400
400
Floris
https://old.floris.vanenter.nl/wp-content/uploads/2015/10/Floris-online-1030x318.png
Floris
2008-12-04 08:54:35
2019-01-15 06:48:48
Mac; nog steeds virusvrij