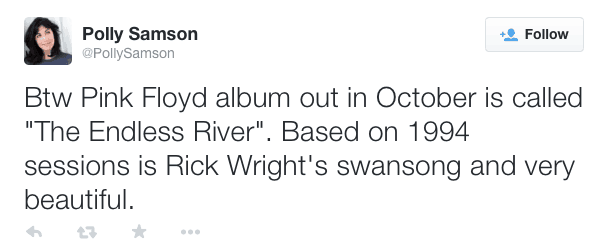 Niemand had het ooit nog verwacht,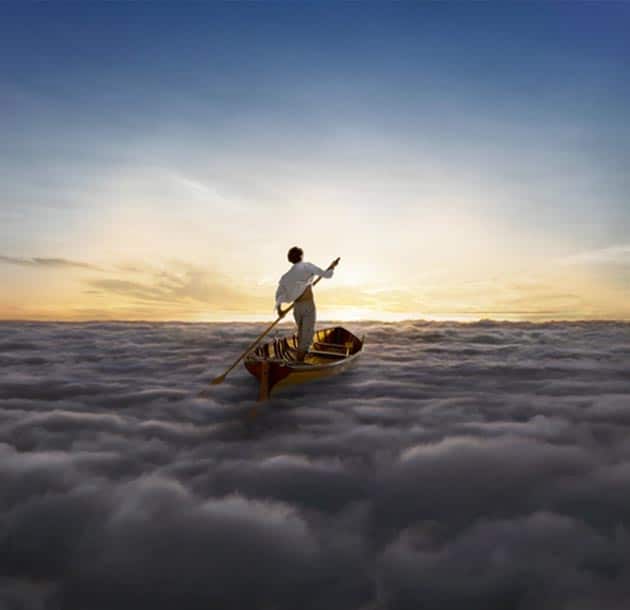 maar het gaat toch echt gebeuren: Pink Floyd brengt nog een album uit. Ik had het er met mijn ouders over en die konden het zich niet voorstellen omdat Richard Wright niet meer onder de bandleden is. Hij is op 65-jarige leeftijd overleden dankzij kanker. Toch wel en zoals je boven kan lezen noemt de vrouw van David Gilmour het album de zwanenzang van Rick Wright.
Sommige mensen maken de fout om aan Roger Waters (of zijn vrouw) te vragen of hij een nieuw album uit brengt. Ik snap wel dat hij gefrustreerd is omdat hij in 1985 opstapte en het pas op Live8 in 2005 weer voor kwam dat ze samen iets deden. Hier reageert Roger waters op Facebook op de vraag.

I left Pink Floyd in 1985, that's 29 years ago. I had nothing to do with either of the Pink Floyd studio albums, Momentary Lapse of Reason and The Division Bell, nor the Pink Floyd tours of 1987 and 1994, and I have nothing to do with Endless River.
Op de website van Pink Floyd kan je al wat stukjes luisteren, op Amazon.co.uk heeft het album alvast de records gebroken van meest vooruitbestelde album. Op 10 november verschijnt het album in de winkels. Hier op Wikipedia vind je nog wat meer gegevens over het album.
https://old.floris.vanenter.nl/wp-content/uploads/2014/10/PFalbumER.jpg
610
630
https://old.floris.vanenter.nl/wp-content/uploads/2015/10/Floris-online-1030x318.png
2014-10-28 14:19:55
2019-01-15 06:49:37
Nieuw Pink Floyd album