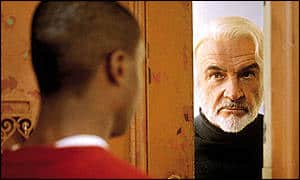 Ik heb vandaag een film zitten kijken op mijn bank terwijl ik wat aandacht besteedde aan de twee blogjes over mijn dromen van motoren. Aan het eind van de film nadat de mentor is overleden leest de leerling nog een brief van hem:
Dear Jamal:

Someone I once knew wrote
that we walk away from our dreams…

…afraid that we may fail, or worse yet,
afraid we may succeed.

While I knew so very early on
that you would realise your dreams…

…I never imagined
I would once again realise my own.

Seasons change, young man.

While I waited until the winter of my life
to see what I've seen this past year…

…there is no doubt I would have
waited too long, had it not been for you.

William Forrester
Een mooie boodschap die de kijker nog even meekrijgt aan het einde van de film. En weer een bevestiging voor zoveel mensen waar ik trouwens ook bij hoor. Zoveel dromen worden niet vervuld omdat men denkt dat het stom is, dat het niet kan, bla bla bla bla. Het is alleen dat we iets moeten gaan doen. Die eerste stap is het lastigst, de rest gaat vanzelf.
Nu snap ik ook de uitspraak van Obama:
"Yes we can!" en was het niet "Maybe we will…" 😛
https://old.floris.vanenter.nl/wp-content/uploads/2011/06/1157817_finding_forrester3003.jpg
180
300
https://old.floris.vanenter.nl/wp-content/uploads/2015/10/Floris-online-1030x318.png
2011-06-25 21:35:16
2014-12-23 19:27:45
Dreams…