Children / kinderen en jij
In november 2007 had ik een blogje geschreven over dit gedicht, omdat ik het nu weer tegen kwam, dit keer met de auteur er bij en nog wat extra's dacht ik het nog eens te plaatsen.
Je kinderen zijn je kinderen niet.
Zij zijn de zonen en dochters van 's levens hunkering naar zichzelf
Zij komen door je, maar zijn niet van je,
en hoewel ze bij je zijn, behoren ze je niet toe. Jij moogt hun geven van je liefde,
maar niet van je gedachten,
want zij hebben hun eigen gedachten.
Jij moogt hun lichamen huisvesten, maar niet hun zielen,
want hun zielen toeven in het huis van morgen,
dat je niet bezoeken kunt – zelfs niet in je dromen.
Je moogt proberen hun gelijke te worden,
maar tracht hen niet aan je gelijk te maken.
Want het leven gaat niet terug,
noch blijft het dralen bij gisteren.
Jullie zijn de bogen,
waarmee je kinderen als levende pijlen worden weggeschoten.
De boogschutter ziet het doel op de weg van het oneindige
en buigt je met zijn kracht
opdat zijn pijlen snel en ver zullen vliegen.
Laat het gebogen worden door de hand van de boogschutter een vreugde voor je zijn:
want zoals hij de vliegende pijl liefheeft,
zo mint hij ook de boog die standvastig is.'
On Children van Kahlil Gibran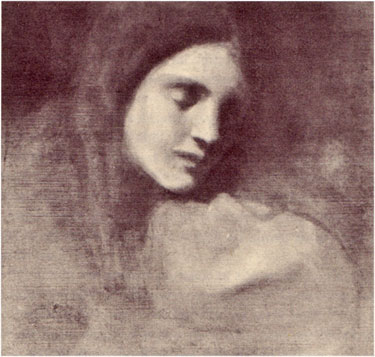 Engelse variant:
Your children are not your children.
They are the sons and daughters of Life's longing for itself.
They come through you but not from you,
And though they are with you yet they belong not to you.

You may give them your love but not your thoughts,
For they have their own thoughts.
You may house their bodies but not their souls,
For their souls dwell in the house of tomorrow,
which you cannot visit, not even in your dreams.
You may strive to be like them,
but seek not to make them like you.
For life goes not backward nor tarries with yesterday.

You are the bows from which your children
as living arrows are sent forth.
The archer sees the mark upon the path of the infinite,
and He bends you with His might
that His arrows may go swift and far.
Let our bending in the archer's hand be for gladness;
For even as He loves the arrow that flies,
so He loves also the bow that is stable.
https://old.floris.vanenter.nl/wp-content/uploads/2009/05/marianna375.jpg
357
375
https://old.floris.vanenter.nl/wp-content/uploads/2015/10/Floris-online-1030x318.png
2009-05-11 12:23:49
2014-12-24 10:23:34
Children / kinderen en jij