1000den pijlstaartroggen op reis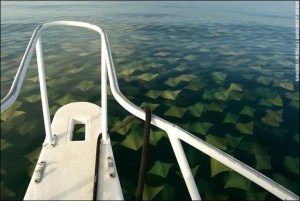 Afgelopen zomer kwamen Sandra Critelli en haar reisgezelschap per ongeluk in een massale roggentrek van Gouden roggen. Als amateur fotografe twijfelde ze geen moment en schoot alle foto's die je in deze post ziet.
It was an unreal image, very difficult to describe. The surface of the water was covered by warm and different shades of gold and looked like a bed of autumn leaves gently moved by the wind.

We were surrounded by them without seeing the edge of the school and we could see many under the water surface too.
alvolgens de fotografe.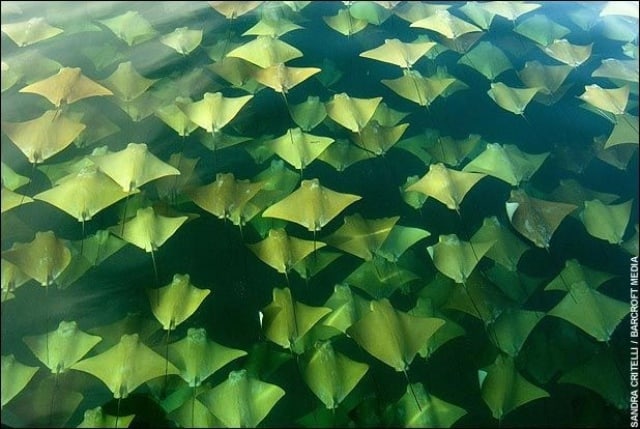 Deze roggenpopulatie in de Golf van Mexico (Google map) migreren in groepen van soms 10.000 exemplaren met de klok mee van West Florida naar Yucatan. Deze goudkleurige pijlstaartrog kan een spanwijdte van 2,1 meter bereiken en staan helaas wel op de lijst van soorten die met het uitsterven bedreigd worden. Gelukkig staan ze nog niet op de zwarte variant, maar op de rode lijst. En als we geen maatregelen nemen zullen ze er vrees ik vanzelf opkomen.
Ze komen erg massaal en bedreigend over, maar eigenlijk is deze rog een hele schuwe rog en totaal ongevaarlijk in grote groepen. Ze zijn wel uitgerust met een giftige angel alhoewel een fatale doodsteek maar zelden voorkomt. Een prachtig gezicht deze foto's.
Zie hier een Google opdracht naar meer van dit soort foto's.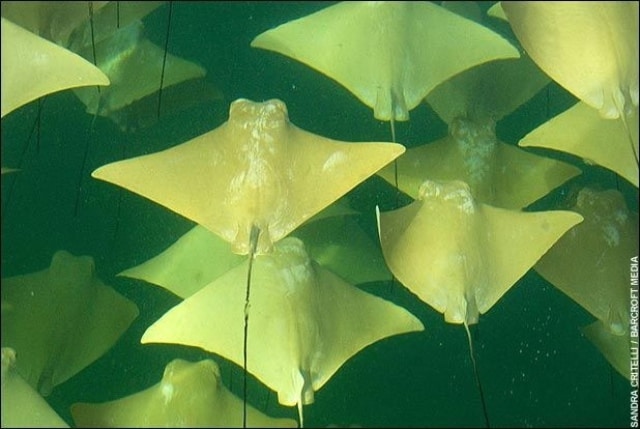 https://old.floris.vanenter.nl/wp-content/uploads/2009/02/stingraymove4.jpg
429
640
https://old.floris.vanenter.nl/wp-content/uploads/2015/10/Floris-online-1030x318.png
2009-02-06 12:37:19
2017-10-16 16:21:13
1000den pijlstaartroggen op reis