Steve Jobs & Bill Gates werden in 2007 door twee prominente journalisten geinterviewd, twee giganten die al 30 jaar bezig zijn met computers en hun bedrijf er om heen. Steve Jobs is er even tussenuit geweest om een gezin te stichten en Bill Gates is de laatste jaren steeds minder actief geworden, maar beiden hebben een groot deel van het hart bij hun bedrijf.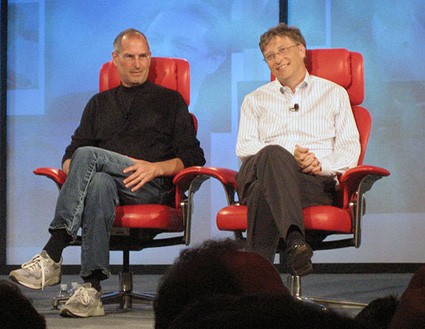 Een heleboel geruchten spraken er over dat een een strijd had kunnen worden, maar uiteindelijk bleken ze heel rustig en als goede vrienden naast elkaar te zitten, mijmeren over vroeger.
Op een gegeven moment haalde Steve een zin aan uit een Beatles lied;

You and I have memories longer than the road that stretches out ahead.
dat vond ik een mooie spreuk. Steve en Bill waren het eens dat ze blij zijn met elkaar, dat ze elkaar nog kennen van vroeger, want ze hebben zoveel anderen zien verdwijnen van het toneel.
Steve Jobs zegt nog iets wat ik wel een interessant feit vind;
Because an iPod's really just software. It's software in the iPod itself, it's software on the PC or the Mac, and it's software in the cloud for the store. And it's in a beautiful box, but it's software. If you look at what a Mac is, it's OS X, right? It's in a beautiful box, but it's OS X.
Iedereen ziet de Mac(book), iPhone of iPod als een ding, hardware. Maar in essentie gaat het om de software, interessant.
https://old.floris.vanenter.nl/wp-content/uploads/2015/10/Floris-online-1030x318.png
0
0
https://old.floris.vanenter.nl/wp-content/uploads/2015/10/Floris-online-1030x318.png
2008-02-19 16:20:36
2021-12-22 13:52:28
Steve Jobs & Bill Gates