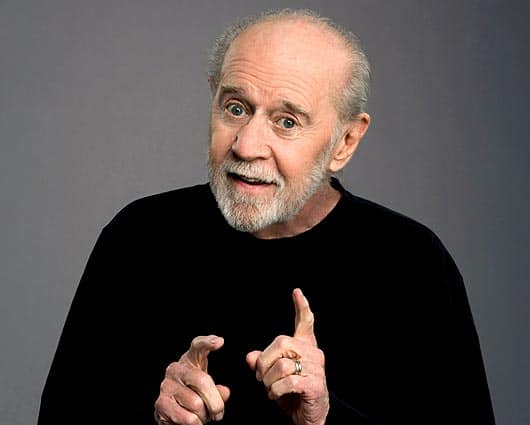 Ooit heb ik op dit blog wel eens over George Carlin gesproken, hij had mijns inziens een briljant stuk over geloof. Een onderdeel van het briljante stukje wil ik nog even aanhalen
I decided to look around for something else to worship.
Something I could really count on.

And immediately, I thought of the sun. Happened like that. Overnight I became a sun-worshipper. Well, not overnight, you can't see the sun at night. But first thing the next morning, I became a sun-worshipper. Several reasons. First of all, I can see the sun, okay? Unlike some other gods I could mention, I can actually see the sun. I'm big on that. If I can see something, I don't know, it kind of helps the credibility along, you know? So everyday I can see the sun, as it gives me everything I need; heat, light, food, flowers in the park, reflections on the lake, an occasional skin cancer, but hey. At least there are no crucifixions, and we're not setting people on fire simply because they don't agree with us.
Zelf ben ik niet zo'n gigantische fan van Amerikaanse comedianten en liep niet zo warm voor cabaret van Robbie Williams of Eddie Murphy. Maar George Carlin heeft me altijd erg weten te vermaken, hij had een goed stuk over de bullshit van "Airport security" nog voor dat tijdens 9-11 een aantal vliegtuigen gekaapt werden. Verder gaat hij na de Airport Security over naar de medelingen in het vliegtuig zelf, de manier waarop hij het uitlegt is briljant, een stukje;
The lady on the plane will say: "An oxygen mask will drop down in front of you. Place the mask over your face and breathe normally." Well, I have no problem with that. I always breathe normally when I'm in a 600 mile-an-hour uncontrolled vertical dive.
Of een ander stukje;
The safety lecture continues. "In the unlikely event of a water landing . . ." Well, what exactly is a water landing? Am I mistaken, or does this sound somewhat similar to CRASHING INTO THE OCEAN!?
Hier een stukje over "Airport Security". Helaas geen video, maar enkel geluid.
[youtube filmpje]
En hier het stukje over het geloof wat ik in die voorgaande post geplakt had.
[youtube filmpje]
George Carlin had ook een stuk over de dood, laten we dat stukje daarom ook plaatsen.
[youtube filmpje]
Helaas is een zeer goede comediant en een sterke criticus nu te komen overlijden afgelopen zondag. Hij is 71 jaar geworden.
https://old.floris.vanenter.nl/wp-content/uploads/2011/07/Life-is-Worth-Losing-by-George-Carlin_B8a9-DJnc4Mx_full-300x268.jpg
268
300
https://old.floris.vanenter.nl/wp-content/uploads/2015/10/Floris-online-1030x318.png
2008-06-25 13:45:17
2015-11-23 14:57:58
George Carlin overleden