Ik ben zelf wel een fan van de serie 24 en vind het een spannend serie, maar ik schrok een beetje toen ik het onderstaande las;
58% van de Amerikanen geloven veilig te zijn tegen terroristische aanvallen omdat ze denken dat ze door een wonder gered zullen worden.
Namelijk 37% van de Amerikanen geloven dat Jack Bauer van de serie 24 echt bestaat en dat hij, als heldhaftig in de serie, tussen de terroristen en Amerika zal springen bij welke dreiging dan ook. Uhm… In dit stuk vragen ze zich dan af waar hij was op 11 september, even op vakantie? Het is zo erg dat prominente Amerikanen in de pers dit soort opmerkingen moeten plaatsen om de mensen terug naar de realiteit te krijgen; "
…Gore's film is supposed to be a documentary. "24″ is fiction. It's not real. You know, like Sponge Bob"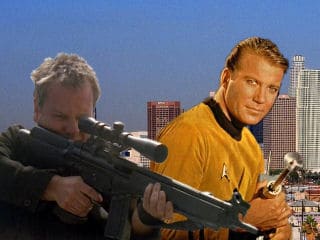 Bauer, de nieuwe James T. Kirk die in voorgaande generaties de denkbeeldige held is die in het echte leven de veiligheid waarborgt.

Verder kwam ik nog een leuke website tegen waar allemaal feitjes over Jack Bauer staan;
Jack Bauer never retreats, he just attacks in the opposite direction.
1.6 billion Chinese are angry with Jack Bauer. Sounds like a fair fight
Withholding information from Jack Bauer is now classified as a suicide attempt.
When the boogie man goes to sleep, he checks his closet for Jack Bauer.
If everyone on "24" followed Jack Bauer's instructions, it would be called "12".
Some people see the glass as half full. Others see it as half empty. Jack Bauer see the glass as a deadly weapon.
https://old.floris.vanenter.nl/wp-content/uploads/2015/10/Floris-online-1030x318.png
0
0
Floris
https://old.floris.vanenter.nl/wp-content/uploads/2015/10/Floris-online-1030x318.png
Floris
2007-01-22 13:32:33
2014-12-17 20:32:26
Amerikanen zijn raar & 24